At Ease USA Benefit Luncheon
11:45 am – 1:00 pm
CHI Health Center, Omaha
Honorary Chairs:
Elizabeth & Mike Cassling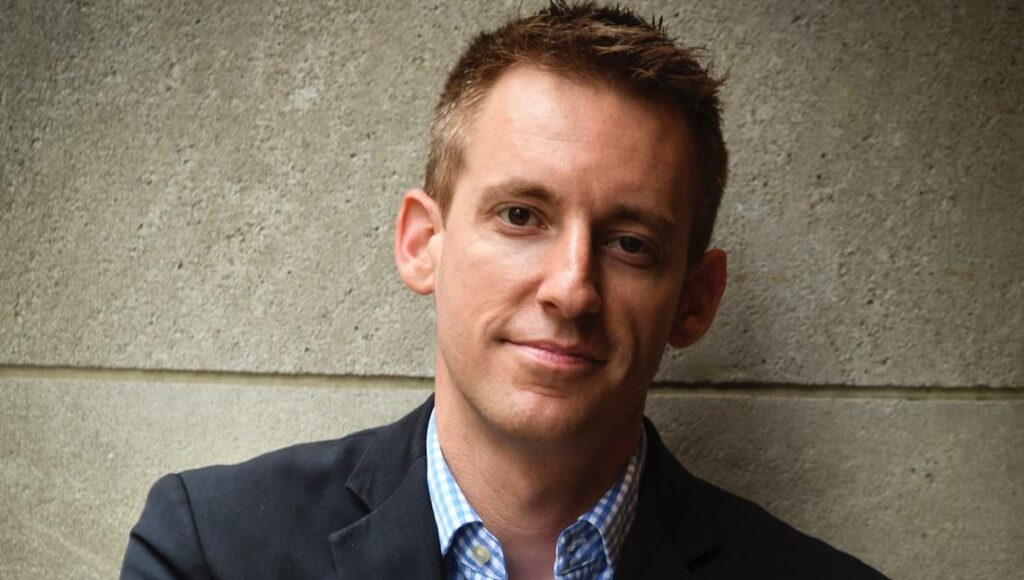 Jason is a Veteran and Former Missouri Secretary of State.
A former Army Captain who served in Afghanistan, Jason Kander was elected to the Missouri state legislature in 2008 and as Missouri Secretary of State in 2012, making him the first American millennial elected to statewide office. He served as a teaching fellow at the University of Chicago Institute of Politics, worked as a CNN Commentator, and appeared on every major television network.  
In 2018, Jason ran for mayor of Kansas City. Three months into that campaign, Jason ended his candidacy to step back from public life and seek treatment for post-traumatic stress he'd been struggling with since coming home from Afghanistan.  He spent eight months out of the public eye while addressing his mental health.  
Today, Jason is the President of National Expansion at Veterans Community Project, a non-profit organization dedicated to fighting veteran suicide and veteran homelessness. He is the founder of Afghan Rescue Project.
A graduate of American University and Georgetown Law School, Jason has written two New York Times bestselling books, Outside the Wire: Ten Lessons I've Learned in Everyday Courage, and Invisible Storm: A Soldier's Memoir of Politics and PTSD, as well as a children's book, Courage Is, which he co-authored with his son.  
Jason lives in Kansas City with his wife Diana, their son True, and their daughter Bella. In his spare time, he coaches True's Little League team and plays centerfield for the Kansas City Hustlers of the National Men's Adult Baseball League.
Cquence Health
Dianne Lozier
Ken and Ann Stinson
Suzanne & Walter Scott Foundation
Timmerman & Sons Feeding
First National Bank of Omaha
HDR, Inc
Heider Family Foundation

Fred Hunzeker
Kiewit
Moody's Analytics
Signature Performance
Valmont Industries, Inc.
All Makes
Arbor Bank
Baxter Automotive
Bellevue University
BlueCross and BlueShield of Nebraska
Dana and Danielle Bradford

Burlington Capital
CHI Health
Bill and Rae Dyer
Paul and Lori Hogan
Kutak Rock LLP
Mutual of Omaha
Pinnacle Bank
Security National Bank
David and Martha Slosburg
Streck, Inc.
Spectrum Financial Services
WoodmenLife
Access Bank
Beardmore Subaru
Berry Law/John Berry
CDW
Cline Williams, Wright Johnson & Oldfather, LLP
Cobalt Credit Union & SAC Foundation
Constellation West
Creighton University
James Dale and Becky Girthoffer-Browne
Dr. Mark and Teri D'Agostino
Doubledare Executive Counseling
John and Terri Fox
Gartlan Real Estate Holdings, LLC
Greater Omaha Chamber of Commerce
Lamp Rynearson, Inc.
Lutz
McCarthy Capital
MECA
Methodist Hospital
Metropolitan Community College
Dan and Shirley Neary
Nebraska Machinery Co.
Omaha Steaks
Onyx Automotive
OPPD
PDM, Inc.
Physicians Mutual
Dean and Jessie Rasmussen
Annette and Paul Smith
Union Pacific Corporation
University of Nebraska at Omaha
University of Nebraska Foundation
Sponsorship Opportunities
Register
Please join us. Individual Tickets are $75 each.
"*" indicates required fields