At Ease USA Benefit Luncheon
11:45 am – 1:00 pm
CHI Health Center, Omaha
Honorary Chairs:
Elizabeth & Mike Cassling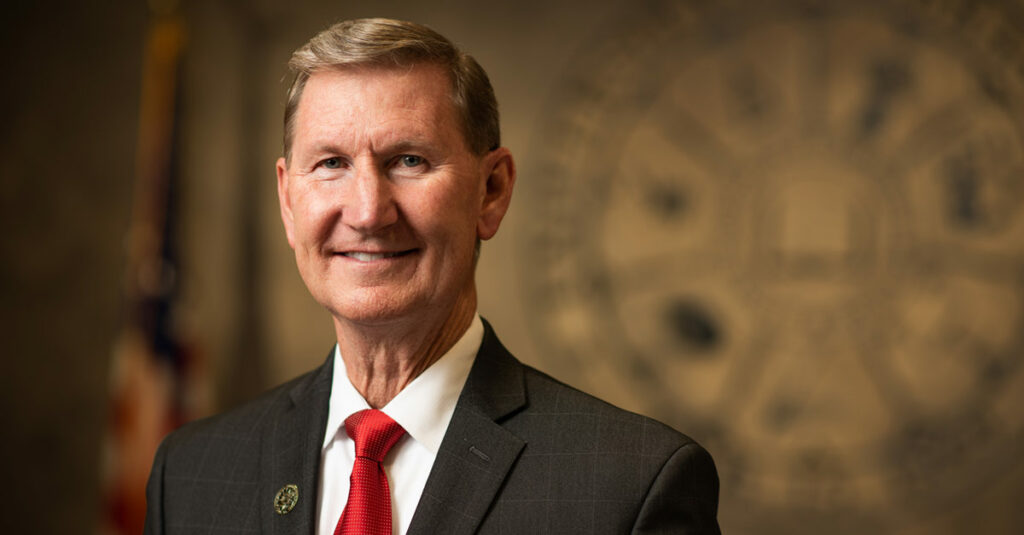 Ted Carter became the eighth president of the University of Nebraska on January 1, 2020.
Ted Carter became the eighth president of the University of Nebraska on January 1, 2020. As president, Carter leads a four-campus university system that enrolls nearly 52,000 students and employs 16,000 faculty and staff on campuses in Lincoln, Omaha and Kearney, plus academic divisions and research and extension centers across the state. He serves as chief spokesman and chief executive officer for the system which operates on a $2.8 billion annual budget and includes a flagship Big Ten institution, a world-renowned academic health sciences center, Division I athletics programs, and preeminent institutes focused on water and agriculture, national security and defense, infections disease and early childhood education.
Carter brought with him a distinguished record in education, partnerships and military service, having come to Nebraska from the U.S. Naval Academy, his alma mater, where he served as superintendent. Under his leadership, the Naval Academy achieved a No. 1 national ranking and new records in student success and diversity. Carter previously was president of the U.S. Naval War College in Newport, R.I. A retired Vice Admiral with 38 years of service, Carter has logged more than 6,300 flying hours and holds the American record for carrier-arrested landings.
Carter oversaw the awarding of a $92 million federal contract for the university's National Strategic Research Institute, one of only 14 University-Affiliated Research Centers in the country conducting exclusive research for the Department of Defense. During Carter's tenure, the NU system has been ranked among the world's top 100 institutions for earning research patents, the Omaha campus was selected as the home for a new federal counterterrorism research center, and the medical center opened an education, training and preparedness facility that positions Nebraska as the world leader in the fight against infectious disease.
Carter earned his bachelor's degree in physics and oceanography from the U.S. Naval Academy. He is a graduate of the Navy Fighter Weapons School (Top Gun) and holds educational credentials from the Navy Nuclear Power School, the U.S. Air Force Air War College, the Naval War College and the Armed Forces Staff College. Carter's military career includes service for the Carrier Strike Group Twelve, in which he commanded 20 ships, two nuclear-powered aircraft carriers, and two carrier wings that were deployed to Afghanistan and the Arabian Gulf.
Cquence Health
Dianne Lozier
Ken and Ann Stinson
Suzanne & Walter Scott Foundation
Timmerman & Sons Feeding
First National Bank of Omaha
HDR, Inc
Heider Family Foundation

Fred Hunzeker
Kiewit
Moody's Analytics
Signature Performance
Valmont Industries, Inc.
All Makes
Arbor Bank
Baxter Automotive
Bellevue University
BlueCross and BlueShield of Nebraska
Dana and Danielle Bradford

Burlington Capital
CHI Health
Bill and Rae Dyer
Paul and Lori Hogan
Kutak Rock LLP
Mutual of Omaha
Pinnacle Bank
Security National Bank
David and Martha Slosburg
Streck, Inc.
Spectrum Financial Services
WoodmenLife
Access Bank
Beardmore Subaru
Berry Law/John Berry
CDW
Cline Williams, Wright Johnson & Oldfather, LLP
Cobalt Credit Union & SAC Foundation
Constellation West
Creighton University
James Dale and Becky Girthoffer-Browne
Dr. Mark and Teri D'Agostino
Doubledare Executive Counseling
John and Terri Fox
Gartlan Real Estate Holdings, LLC
Greater Omaha Chamber of Commerce
Lamp Rynearson, Inc.
Lutz
McCarthy Capital
MECA
Methodist Hospital
Metropolitan Community College
Dan and Shirley Neary
Nebraska Machinery Co.
Omaha Steaks
Onyx Automotive
OPPD
PDM, Inc.
Physicians Mutual
Dean and Jessie Rasmussen
Annette and Paul Smith
Union Pacific Corporation
University of Nebraska at Omaha
University of Nebraska Foundation
Sponsorship Opportunities
Register
Please join us. Individual Tickets are $75 each.
"*" indicates required fields